Webster's Dictionary defines "history" as the study of past events. Studying history helps us understand how events in the past shaped the people and places as we know them in our day. This is especially true for Catalina Island. In fact, the top 7 events in the history of Catalina Island provide a timeline of pivotal moments that shaped this island into what you'll experience today. When you study these events, you learn about Catalina's original inhabitants and the influential people and occurrences that have transformed this beautiful island into a "playground for all." The history of Catalina Island is filled with dreams, exciting discoveries, challenging disasters, and passionate endeavors to protect its land and endangered species.
1542 | First European Discovery and Native People
Initially, the Tongva or Gabrieliño tribe lived on Catalina Island. They called the island Pimu and referred to themselves as Pimugnans. Archeologists have discovered evidence of ancient inhabitants living in various locations on the island, dating back 8,000 years, but the Tongva were primarily where the city of Avalon currently exists.
Yet, the first European didn't discover Catalina until 1542, when Spanish explorer Juan Rodriguez Cabrillo anchored on its shores. Several years later, the island was renamed Santa Catalina in honor of St. Catherine and became home to miners, ranchers, otter hunters, and even smugglers.
1887 | Island Owner George Shatto's Vision
Shortly after the United States assumed control of California and its islands from Mexico in 1846, Santa Catalina Island passed through various hands without much development. Then in 1987, George Shatto, a real estate speculator from Grand Rapids, Michigan, purchased the island to turn it into a resort destination. He worked hard to develop the city he named Shatto. However, his sister-in-law, Ella Whitney, called it Avalon, a word defined by Webster as a "bright gem of the ocean."
1915 | The Great Fire of Avalon
The Banning brothers continued working to fulfill Shatto's dream of making Catalina a sought-after vacation spot and established the Santa Catalina Island Company. They built a dance pavilion in the center of town, added to an existing hotel, and founded the Pilgrim Club, a gambling house for men only and is currently where The Avalon Hotel now stands.


The brothers provided access to several beaches, including Lovers Cove, Sugarloaf Point, and Descanso Beach. Pleasure Pier, which still stands, was built in 1909 as part of their development plan.
Their dreams were shattered on November 29, 1915, when a fire destroyed half of Avalon's buildings, including The Pilgrim Club. The Bannings worked hard to restore Avalon to its glory but found that it required more than they could give.
1919 | Catalina Island Sold to the Wrigley Family
William Wrigley, Jr. visited Catalina with his wife, Ada, and young son, Philip. He and his family fell in love with the island almost immediately. So, he quickly purchased enough shares to have a controlling interest in the Santa Catalina Island Company. A few years earlier, in 1891, Wrigley began adding a free pack of chewing gum when customers bought his soap or baking soda, launching a huge industry. But Wrigley is not just known for his chewing gum fame. He was also the owner of the Chicago Cubs and transformed Catalina Island into their spring training locale.
In the early 1920s, movie producers flocked to the island to create films, and one of the first movies required bringing bison to the island. Today, the herd has grown to around 150 and thrives throughout the island's interior.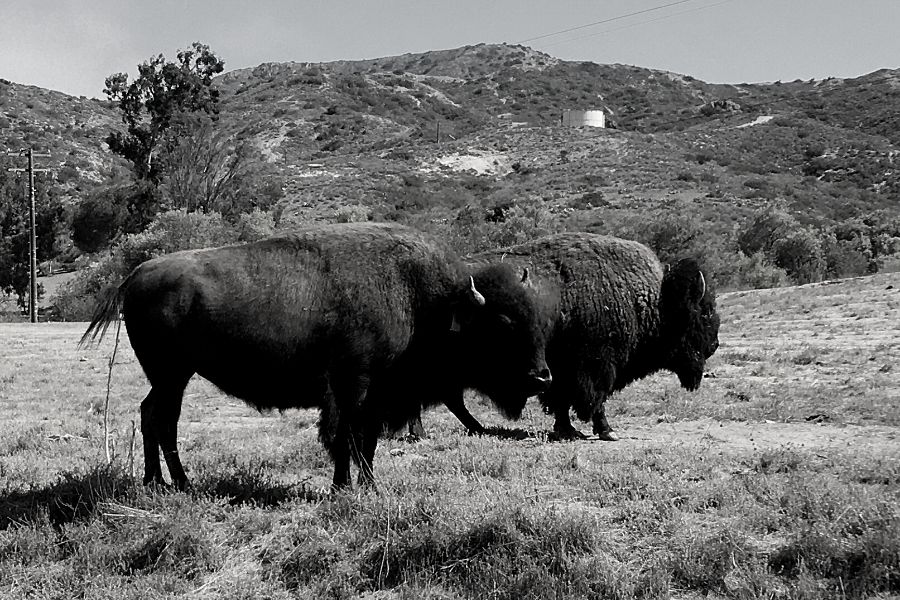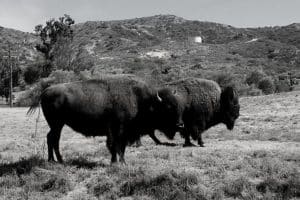 1929 | Casino Was Built
William's son, Philip Wrigley, continued to expand the entertainment and resort nature of Catalina. Completed in 1929, the Catalina Casino was designed in the Mediterranean Revival architectural style and finished in full Art Deco regalia with giant mosaics and hand-painted murals depicting its famous mermaid and the island's storied and mythic past. Wrigley wanted to expand the current dance hall and create a ballroom to accommodate the tourists visiting the island. It remains the world's largest circular ballroom. The lower level became a theater explicitly built to show "talkies." Now you can take two walking tours to give you insight into the fabulous architecture and remarkable history of the thriving Big Band era. Major events, as well as private weddings, are held here.
1942-45 | Became a Military Training Facility
During World War II, Catalina was closed to visitors and became a training facility for the U.S. Maritime Services. According to the Catalina Islander, the training was for covert operations and included using small crafts carrying explosives and collapsible kayaks and surfboards.
In an isolated bay just north of Avalon, men trained in weaponry, martial arts, and jungle combat. They underwent brutal physical conditioning to hone their skills.
1975 | Established the Largest Private Land Trust in CA
Philip Knight Wrigley and other family members deeded 42,000 acres of land on Catalina Island to the Catalina Island Conservancy. This deed helps protect over 60 miles of unspoiled beaches and coves and over 60 different species of plants, animals, and insects. The Conservancy also offers eco-tours and educates visitors at its two nature centers. There are hiking and biking trails as well as campsites for overnight stays. Visitors may also volunteer and help in the Conservancy's efforts to preserve the land and its inhabitants.
A visit to our lovely island is only complete with knowing these top 7 events in the history of Catalina Island. These events provide the background for a better understanding of the exciting adventures that will fill your days during your stay.
As for your nights, The Avalon Hotel is a great option and a hidden gem nestled just above the bay. We provide a warm and cozy spot to relax and prepare yourself for another day of visiting our gorgeous beach, hiking on nature trails, or enjoying a little retail therapy in our boutique shops. Check availability now and begin planning your visit to this historical playground we call home.